Photography is both a pleasure and a puzzle—trying to meld the two to improve my skills is an on-going learning process. That's why I enjoy challenges like The One Word
Project
, a monthly community photography project hosted by Shutter
Sisters
. Such opportunities offer a means to focus more than just my camera lens.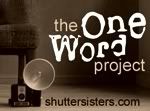 The word patterns is my choice for February's focal point.


I was entranced by the play of light through the beams of one of the ramadas at Tucson Botanical Gardens. It gave me the submission photo I felt best exemplified patterns.